Teton Valley Farmer's Market: Bandana Bakery, Caitie Hicks, Driggs | Community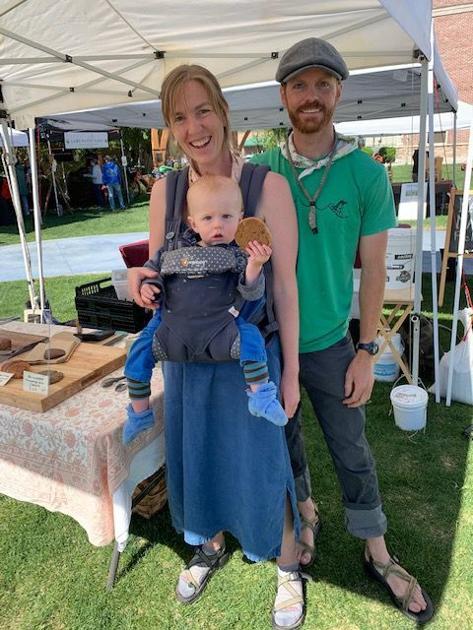 "How did you come to the pastry shop? I asked Caitie as I settled into a cart outside her stand, Bandana Bakery, last Friday.
"So many answers to that question," she replied, smiling and cuddling their 14-month-old son, Eamon. Andy had stepped in to interact with customers so we could talk. It was around 11 a.m. by then and almost all of their breads, croissants, traditional French pastries and organic handmade cookies were sold out.
"I grew up in Georgia, and when I was very little I remember being in the kitchen while my mom and grandma cooked and cooked all of our food from scratch. I wanted to help. And I did.
"Growing up, I always thought I would be an artist. When I was in high school, I developed my interest and skills in drawing and painting. I had been accepted to Rhode Island School of Design and was planning to attend after graduation. However, I had accepted a job in the Teton Valley kitchen for NOLS for the summer between high school and college. And I was happy here, it suited me. So I ended up staying for a year. Some decisions in life are made on their own.
In the fall of the following year, Caitie moved to Burlington, Vermont, to study English and Art at the University of Vermont. There she joined the Outing Club and quickly became a volunteer facilitator for student hiker groups. Almost every weekend, she would get a group into the school van and go to a trail. Caitie was surprised and delighted to find a bakery in almost every small town. She was particularly intrigued by Red Hen Baking Company in Middlesex, Vermont, where they made sourdough breads and traditional French pastries using all the local grains.
After graduating from UVM, Caitie moved to New Hampshire where she worked at a Waldorf camp in the Monadnock range. One day, on the camp farm, she discovered large sacks filled with the most aromatic and beautiful bread she had ever seen. As it turned out, the bread was baked near Alstead, at a bakery called Orchard Hill Breadworks. The bakery was located in an old barn on a working farm. "Their bread was so rustic, so honest," Caitie continued. "I was so inspired by this place that over time Noah Elbers, the owner, became my employer and my good friend. We always keep in touch. "
In 2012, Caitie returned to Teton Valley to cook for NOLS again, until 2014 when she returned to Vermont to begin her first gig as a baker in Red Hen. Red Hen was the "gold standard" – an award-winning organic and artisanal bakery. He also provided good jobs in a rural community. "There, I learned and then mastered the art of shaping bread – from 10 am to 10 pm! It was physically demanding, yet rewarding work, "she told me. "After a year with Red Hen, I left the bakery and the Northeast to attend a craft school in North Carolina, then to take a teacher training program in New Hampshire. I went to school part time and worked part time at Orchard Hill Breadworks. It was there that I quickly fell in love with pastry. Their oven was a Llopis, a wood-burning hearth located under a rotating stone hearth. Basically it's a large, circulating stone platform connected to a wheel that spins the hearth. As the hotplate turns you keep adding new breads and in about 25 minutes you will start to remove fully baked bread.
"And now, Caitie, please tell me how Bandana Bakery started," I asked.
"A few years ago, I returned to Teton Valley to take yoga teacher training. At the time, I found a job with Ken and Erika on Full Circle Farm. Andy and I met, and … then came Eamon last April. As a stay-at-home mom, I discovered that I had time to cook again. I've always dreamed of having my own bakery, sharing what I've learned from all these other amazing artisans over the years. Andy also dreamed of starting his own bakery, which is actually how we met. Now, with our family growing up and feeling grounded here in Driggs, I feel like I finally have a reason to pursue my dream. So I started cooking again, using a Combo Cooker (a cast iron Dutch oven specially designed for baking bread) and our conventional pan. It's not the most efficient or romantic way to bake bread, but it works, and it allows us to create hearth-type breads with what we have on hand at the moment. Someday I would love to have a Llopis, however. We are starting small at our Farmer's Market this season, and it seems like a good first step towards our dream.